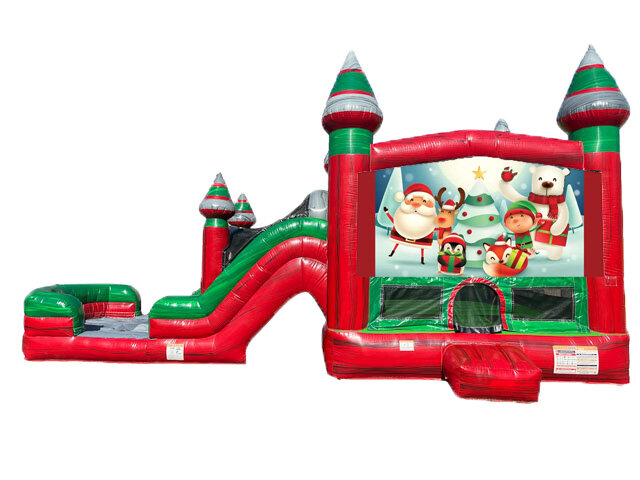 Artic Adventure Bounce and Slide Combo
Introducing the Arctic Adventure Inflatable Bounce House – your ticket to a frosty, fun-filled party experience! Transform any event into a winter wonderland with this North Pole-themed inflatable bounce house rental. Perfect for birthdays, holiday gatherings, or any occasion that calls for a touch of icy excitement.
Features:
Chill Vibes: Step into a magical world where snowflakes dance in the air and the North Pole comes to life. The Arctic Adventure Bounce House sets the stage for an unforgettable journey into the heart of winter.

Durable and Safe: Crafted with high-quality, puncture-resistant materials, this bounce house ensures a safe and secure environment for endless bouncing fun. The reinforced seams and sturdy construction guarantee hours of enjoyment for kids and adults alike.

Easy Setup: Our inflatable bounce house is designed with convenience in mind. The quick and hassle-free setup means more time for celebration and less time on logistics. Just plug it in, watch it inflate, and let the festivities begin!

Winter Wonderland Design: Immerse yourself in the North Pole experience with vibrant, North Pole-inspired graphics. From playful penguins to majestic polar bears, the bounce house is adorned with charming characters that capture the spirit of the season.

Spacious Play Area: With ample room for bouncing and frolicking, this inflatable masterpiece accommodates a group of energetic partygoers. Let the kids burn off excess energy as they explore the snowy landscapes within the safety of the bounce house.

All-Weather Durability: The Arctic Adventure Bounce House is designed to withstand various weather conditions, ensuring the fun doesn't stop even if the temperatures drop. Whether it's a sunny winter day or a frosty night, this inflatable will keep the party going.

Inclusive Rental Package: Our rental package includes delivery, setup, and takedown, leaving you free to focus on creating unforgettable memories. We also provide safety guidelines to ensure everyone has a blast responsibly.
Make your next event extraordinary with the Arctic Adventure Inflatable Bounce House. Reserve your date now and let the North Pole magic unfold right in your backyard!